South Australia Branch
The SA Branch is committed to the ACNN objectives of advancing the specialty of neonatal nursing and positively influencing care for neonates and their families.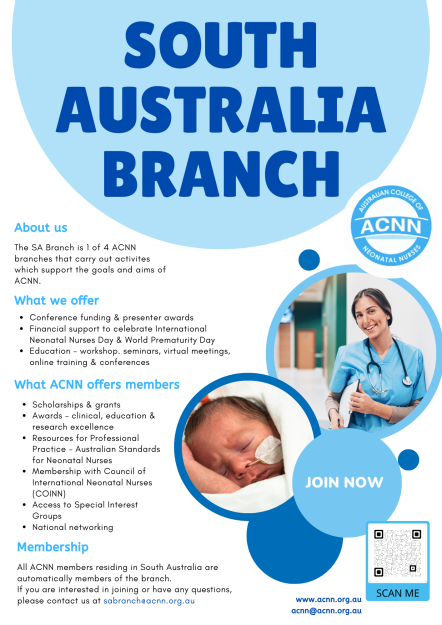 The SA Branch provides a forum for discussion and debate about how neonatal nurses can work together to achieve optimal care for neonates and their families. Its role is to provide support for professional development, education and research opportunities, provide leadership in clinical care and contribute to health care policy within SA.
The Branch holds regional and metropolitan seminars and education events throughout the year, which are posted on the EVENTS tab.
Download our information sheet
Access member only information in the members area.
Current Committee
Chairperson: Angela Cavallaro
Secretary: Petra Noble
Treasurer liaison: Marissa Lewis
Ordinary members: Louise Stock, Anna Seppelt, Susie Jones, Megan Bater, Miriam Long, Belinda Bosward, Jacquie Glazbrook, Christine Bonnily, Kristin Greenhalgh
National Newsletter
The ACNN national newsletter is produced 4 times a year in March, June, September and December. Highlights of activities, members' achievements and planned events are included in this publication, emailed to all members. All members are encouraged to contribute to the newsletter either directly to newsletter@acnn.org.au or via the branch.
Updated 29 September 2023