International Training Delegations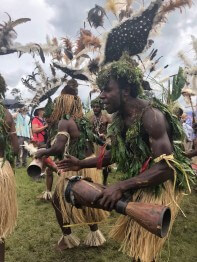 In response to COVID- 19 the LRC committee is being guided by the
Australian Government recommendations for overseas travel.
2023 dates
Planning underway !!

Delegations:
- maximum of 8 people
- visit a Papua New Guinea province (TBC)
- deliver education and training to healthcare workers based on the Helping Babies Breath program
Criteria:
- neonatal nurses, must be a current financial member of ACNN
- preference given to members of the LRC SIG Goroka Show
- preference given to those actively involved in meetings and/or fundraising activities.
Each person is responsible for their travel insurance, vaccinations and personal requirements.


Past trips

2020 & 2022

2019
September 7-15. Goroka. Apart from training, we also had the opportunity to visit the cultural show in Goroka. An amazing event where 100+ tribal groups from all over PNG descend on Goroka for the annual 'sing-sing'. Wonderful dancing, singing and amazing and colourful traditional costumes.
August 19-25. Kokoda and Kupiano. This was the first visit to these areas in partnership with the Kokoda Track Foundation (KTF). Kokoda Village and hospital were immaculate and beautiful. We stood under the arch at the start/finish point of the Kokoda track...without having to do an incredibly tough walk. Though we did have to do a few kilometers walk down a dirt track to get there! Our amazing friend and collegue Sr Lucy Mahabi, midwife and paediatric nurse from Goroka joined us on this trip, she is one of our training team members and also provides content translation.
May 25 - June 2. Goroka. This was to date our largest number of training participants. Thanks to the local NGO, TTU, we did back to back VHV training sessions nearly every day. We provided training and education to 195 VHV's, nurses, nursing students, midwives and medical professionals. We were invited for the first time to present at the Goroka Hospital Medical Grand Rounds in addition to the Nursing Grand Rounds. It was wonderful, very interactive and engaging. Lots of discussion generated about the importance of nurses and doctors working together and valuing each others skills and expertise.
Only a two man contingent this trip. We provided education in the Special Care Nursery and supported train-the-trainer opportunities on equipment usage and troubleshooting.

2017
September 1-9. Goroka. HBB was taught to 49 second year nursing students, 67 VHV's and 30 health care workers. Trained at Assaro's Health Centre. A highlight was witnessing the graduation of 21 Village Birth Attendant's (VBA's) after their two weeks of training at Goroka Hospital. We were able to present solar headlamps and birthing kits to the VBA's . Nursing Grand Round presentations at the hospital include Respiratory Distress and the first breath, International maternal sepsis updates and 'is the baby well?' - rounding in the wards. We were able to spend time in the wards of Goroka Hospital - always a humbling experience.
May 5-13. Goroka. This trip included a visit to AT Projects and a hike up Mt Gahavisuka to see the birds of paradise before a week of teaching at Goroka Hospital and again to Komperi and Fore clinics. Over 60 VBA's were taught the HBB program and we were able to give them solar charged head lamps to use in the village's to support their providing health care. These were purchased with LRC SIG fundraising. Teaching to first year nursing students and staff at Goroka Hospital included HBB and adult resuscitation. Grand Round topics included Kangaroo Care and the Neonatal Nurse Practitioner's role in Australia. Research group identified areas to develop at Goroka. A highlight was celebrating International Nurses Day and walking alongside them to Peace Park.
2016
September 9-18. Goroka. This trip included teaching in Goroka and at two rural locations, Komperi and Fore. Over the week 89 healthcare workers (RNs/RMs/Village Birth Attendants/Health Extension Officers / Student Nurses) participated in HBB training and 45 attended Nursing Grand Rounds. Presentations included Kangaroo Care for Pain Relief; GDM and an update on the progress of the Every Newborn Action Plan. This trip coinsided with the Goroka Cultural Show, which everyone enjoyed - particularly Pikinini Day.
May 6-14. Goroka. Training was undertaken in Goroka and at Komperi, a rural location 2 hours drive east of Goroka. 119 Rn's/RM's Village Birth Attendants / Student Nurses participated. This trip coincided with International Nurses Day. The local nurses had organised a day of celebration with included a dawn service with beautiful singing along with research and quality improvement activity presentations and a lunch. It was wonderful to be a part of this.
2015
May 9-16. Goroka.
October 10-17. Goroka and a site visit to Madang.

2014
October 4-11. Goroka. Helping Babies Breathe training and education was provided to 134 Nursing staff and students at the hospital. We were able to have discussions with Rotary Goroka looking at future partnership opportunities. Provided a 250ltr water tank outside the Special Care Nursery. This will provide water for general hygiene needs when the hospital's own water supply is not available (currently unavailable up to 16hrs each day) . We also spent time in the Special Care Nursery attending ward rounds, talking with nursing and medical staff, discussing the ways that the LRC SIG may be able to provide support and education.

Nursing Grand Rounds 2014



Updated 9 January 2022